England produce double drama as hosts Malaysia cruise into semis
While England produced the day's drama as the line-up for the semi-finals of the CIMB Foundation WSF Women's World Junior Team Squash Championship was decided, Malaysia stayed on track in their title bid in the country's capital Kuala Lumpur.
Full Results & Coverage on WSFWorldJuniors.com
The second-seeded hosts were rarely tested on a day which began with a 3/0 defeat of Canada in their last Group B match at the Bukit Jalil National Squash Centre.
Returning to the court hours later, they were once again dominant as they packed off challengers Switzerland 3/0 to secure a place in the semi-finals for the third successive time.
With a 1-2-3 order of play, Aifa Azman stepped on first and despite a slight lapse in the second game, still had too much firepower in producing an 11-4, 13-11, 11-4 win over Swiss No.1 Ambre Allinckx.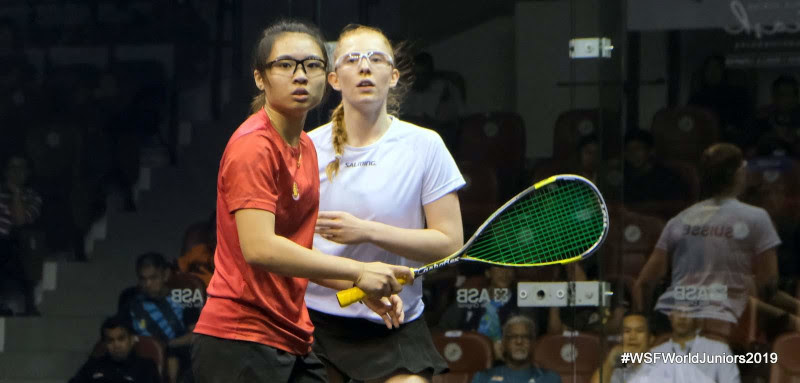 Second string Chan Yiwen then duly sealed the win by despatching Cassandra Fitze (both pictured above) 11-3, 11-7, 11-4 before third string Ainaa Ampandi, in place of a sick Ooi Kah Yan, finished off the contest by beating Alina Poessl 11-1, 11-5 in the dead rubber.
"Of course, it's pleasing to get through with a convincing win," said national assistant head coach Andrew Cross. "Our first target is to get back on the podium and we've achieved that now.
"Now it looks like we'll be up against Hong Kong in the semi-finals, a repeat of the Asian Junior Team Championship final which we won. It's another tough game but I expect the girls to be up to it.
"Meanwhile Kah Yan is sick which is why she is rested – but I have complete faith in Ainaa to do the job. We gave her a chance to play today in order to get a run out in case she is needed to step up in the semi-finals."
Malaysia, silver medallists from the 2017 edition, do go on to meet regional rivals Hong Kong China in the last four.
The third seeds secured their spot in the last eight as Group C winners after beating India 3/0 in the morning session.
And they too were looking very strong as they saw off a weary-looking USA 3/0 in the quarter-finals.
The crucial win for Hong Kong was in the first string match as Chan Sin Yuk avenged her British Junior Open Under-17 final defeat to Marina Stefanoni, this time carving out an 11-7, 7-11, 11-1, 7-11, 11-4 win.
"I've played Marina a few times but I lost to her the last time we met. I knew however I had a chance to take her down today," said Sin Yuk (pictured above against Stefanoni).
"It was an important win because I knew that if I won, my teammates would be able to play without pressure and I'm pleased to have delivered for the team."
Following Sin Yuk's win, Hong Kong quickly wrapped up the contest with Kirstie Po Yui Wong and Lee Sum Yuet both seeing off Olivia Robinson and Caroline Spahr respectively.
"Sin Yuk's win was important. It is revenge for her and it gave the team a good push," said Hong Kong coach Dick Leung.
"I'm also pretty happy with the results so far. We were promoted to be third seeds before the team event started but I've been telling the girls that the seedings is just a number.
"I'm pleased that they were able to show their ability as a top four team and we have nothing to lose against Malaysia so we'll give it a go."
Meanwhile fourth seeds England produced the best drama of the day, from both the morning and evening sessions.
In the morning session, they rallied together after first string Elise Lazarus fell in five to Stefanoni to clinch a 2/1 win over the Americans and topped Group D.
Second string Alice Green played a huge role as she first saved match-ball in the deciding rubber against US No.2 Robinson, before converting her sixth match-ball opportunity in a see-saw battle to win 12-10, 10-12, 11-9, 6-11, 17-15.
That set up Evie Coxon to clinch the win by beating Elisabeth Ross 11-7, 11-8, 11-5.
Later in the quarter-finals, the English girls once again showed great tenacity to beat India 3/0.
Lazarus redeemed herself as she recovered from two games down to beat Sanya Vats 8-11, 1-11, 11-7, 11-6, 11-3.
And Green once again delivered the heroics by beating Aishwarya Khubchandani 11-13, 11-8, 11-8, 11-6 before Coxon finished it off by beating Yoshna Singh 11-7, 8-11, 13-11 in the dead rubber to put England into the last four for the fourth time in a row.
"I feel great to be honest. I had a great match against Olivia, 17-15 in the fifth and it surely wasn't an easy match," said Green (pictured above in quarter-final action).
"I'm pleased that I recovered well enough to play in the evening match but a lot of credit also goes to Elise, who did great coming from 2/0 down to win her tie.
"Now we're excited to be in the semi-finals and we're looking forward to facing Egypt. They're the top seeds and we want to give it a go against them."
Defending champions Egypt had another effortless day as they first swept aside Switzerland 3/0 in the morning session before putting on their strongest line-up to crush surprise quarter-finalists Australia 3-0.
Earlier in the day, 10th seeds Australia had beaten Japan 2/1 to secure a surprise second place in Pool B – thereby guaranteeing the former champions a top eight finish for the first time since 2005.
In the playoffs for 13th-18th places, Sweden beat Singapore 3/0 and will meet Ireland next while Japan defeated Chinese Taipei by a similar score and meet Republic of Korea next.
Quarter-finals:
[1] EGYPT bt [10] AUSTRALIA 3/0 
Hania El Hammamy bt Alex Haydon 11-7, 11-5, 11-9
Jana Shiha bt Sze Yu Lee 11-5, 11-6, 11-6
Farida Mohamed bt Remashree Muniandy 11-8, 11-3
[4] ENGLAND bt [6] INDIA 3/0 
Elise Lazarus bt Sanya Vats 8-11, 1-11, 11-7, 11-6, 11-3
Alice Green bt Aishwarya Khubchandani 11-13, 11-8, 11-8, 11-6
Evie Coxon bt Yoshna Singh 11-7, 8-11, 13-11
[3] HONG KONG CHINA bt [5] USA 3/0 
Chan Sin Yuk bt Marina Stefanoni 11-7, 7-11, 11-1, 7-11, 11-4
Kirstie Po Yui Wong bt Olivia Robinson 11-4, 11-6, 11-9
Lee Sum Yuet bt Caroline Spahr 8-11, 13-11, 11-6
[2] MALAYSIA bt [8] SWITZERLAND 3/0 
Aifa Azman bt Ambre Allinckx 11-4, 13-11, 11-4
Chan Yiwen bt Cassandra Fitze 11-3, 11-7, 11-4
Ainaa Ampandi bt Alina Poessl 11-1, 11-5
Full Results & Coverage on WSFWorldJuniors.com
Day TWO : Top seeds qecure quarter-final slots in KL
It was business as usual for seven of the top eight seeds who secured their spots in the quarter-finals of the CIMB Foundation WSF Women's World Junior Team Squash Championship after today's second qualifying rounds in the Malaysian capital Kuala Lumpur.
Full Results & Coverage on WSFWorldJuniors.com
The only exception was Canada following the seventh seeds' 2/1 defeat to 10th seeds Australia on Monday.
But whilst the Canadians bounced back today by beating Japan 3/0 in their Group B tie at the Bukit Jalil National Squash Centre, the team faces a mammoth task to make the quarter-finals as they need to secure a win against second seeds and hosts Malaysia in their last Pool B tie on Wednesday.
Malaysia meanwhile continued their romp by overcoming Australia 3/0 in their second tie (both squads pictured below).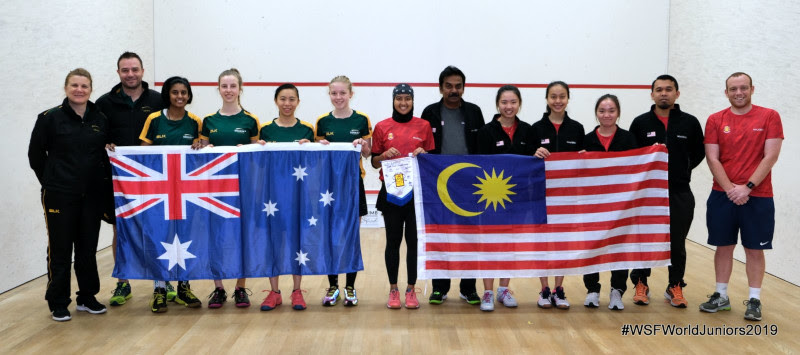 Aifa Azman, back to action after losing in the semi-finals of the individual competition on Saturday, got the team off to a winning start by beating Alex Haydon 11-3, 11-4, 11-2.
Third string Ooi Kah Yan was briefly troubled by Katie Davies but managed to pull through with an 11-7, 11-9, 11-3 win before Chan Yiwen completed the romp by beating Sze Yu Lee 11-3, 11-4, 11-7.
The hosts are now in a comfortable position to finish as group winners where they are predicted to meet Group A runners-up Switzerland in the last eight.
"Aifa was in good form today and she didn't give the Aussies much room to play with," said national assistant head coach Andrew Cross. "It gives the team a lot of confidence when your No.1 starts strongly.
"Kah Yan on the other hand wasn't feeling so well. She was vomiting in between games so it explains why her performance was shaky today but Yiwen played well to finish strongly for us.
"Now we'll have Canada on Wednesday morning before probably facing Switzerland in the quarter-finals in the evening. We'll do our best to get ready for two matches with an eye on playing one of the tougher teams in the semi-finals."
In Group A, top seeds and defending champions Egypt also cruised to their second win by despatching France 3/0. They will wrap up their group matches against Switzerland, who also took their second win by defeating Singapore 3/0.
In Group C, Hong Kong China also safely secured passage into the top eight by beating event debutants Chinese Taipei 3/0 in their win of the competition (both squads pictured below).
The third seeds go up against sixth seeds India to determine the group winner on Wednesday morning.
In Group D, fourth seeds England also earned their third win, beating Sweden 3/0 although third string Katie Wells was taken the full distance for the second day in a row before getting past Anna Kaiding 11-8, 6-11, 11-7, 3-11, 11-6.
The five-time winners go up against USA in their last group tie in order to determine the group winners.
The US had scored 3/0 wins over South Africa and Republic of Korea and will relish a shot at taking down England in order to get a favourable draw for the quarter-finals.
"We may have got through to the quarter-finals but we still want to finish with a win and top the group because it helps us moving forward," said England coach Tania Bailey.
"I'm excited to see the number ones play. I know the US' Marina Stefanoni didn't play so well during the individuals while our Elise (Lazarus) (pictured below, left, in action against Sweden) is also a really strong player so that will be an exciting match.
"The first string aside, I know that if my girls play to what I know they can, then they should be able to get past the Americans. It won't be an easy match but we have trained well and we're feeling confident going into a tough game."
Full Results & Coverage on WSFWorldJuniors.com
Day ONE: Hosts Malaysia start strongly but Aussies steal World Teams opening day show
The Malaysian girls put their disappointment in the individual event behind them on day one of the CIMB Foundation WSF Women's World Junior Team Squash Championship in the country's capital Kuala Lumpur – but it was Australia who stole the show to kickstart the event at the Bukit Jalil National Squash Centre.
Former champions Australia, the 10th seeds, had a tough draw after being placed in Group B together with second seeds Malaysia, seventh seeds Canada and the 14th seeded Japan.
But they proved that seeding is really just a number after putting up a spirited showing to beat Canada 2/1 in their opening tie.
And it came down to third string player Remashree Muniandy to deliver the heroics against Canada's Brianna Jefferson.
Down 2/1 in the deciding match and facing match-ball in the fourth at 10-9 down, the Malaysian-born 17-year-old saved that point and subsequently saved two further match-balls before taking the game 15-13.
That proved to be the crucial swing as Remashree – clearly inspired by being back on 'home' soil – went on to secure a turnaround 7-11, 12-10, 5-11, 15-13, 11-4 win to give underdogs Australia the unexpected win (picture below shows the jubilant Australian camp after the victory).
Earlier the Canadians had stormed into the lead when Erica McGillicuddy downed Sze Yu Lee 11-7, 11-8, 6-11, 11-8 before Australia levelled the tie through Alex Haydon who took out Charlotte Orcutt 11-7, 11-4, 10-12, 8-11, 11-2.
Australian head coach Paul Price was certainly pleased with his team's performance, especially with the chance of competing in the quarter-finals at stake.
"It's a huge win for us as we're seeded 10th while the Canadians are 7th. We knew this was the crunch match for us in order to make a breakthrough to get into the top eight," said the former world No.4.
"The performance showed a lot of spirit and heart and if they play the way we knew they could then we could also back this up against a solid Japan.
"Today however, I thought the team came back up strongly after the first loss. They managed to dig in to grind out the result and I thought it was an amazing performance."
With Australia – who won the title in 1995 but have failed to finish in the top eight since 2005 – due to play Malaysia on Tuesday, the big win over Canada was certainly very welcome indeed.
Malaysia earlier showed they meant business by whipping Japan 3/0 in the other Group B clash.
Ooi Kah Yan started off by beating Ayumi Watanabe 11-3, 11-3, 11-4 before Chan Yiwen cruised to an 11-2, 11-2, 11-4 win over Erisa Sano Herring. Ainaa Ampandi rounded off the win by beating Kurumi Takahashi 11-1, 11-2, 11-4.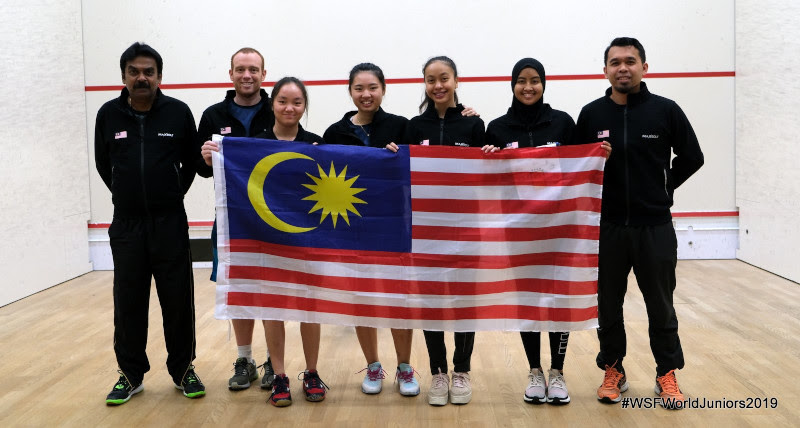 Malaysian national assistant head coach Andrew Cross (pictured above with the Malaysian squad) believed it was just the response the team needed after Yiwen and Aifa Azman's disappointment in the individual event.
"It's good to get back on court after the individuals and we just needed to get started to get the job done," said Cross.
"Aifa was given an extra day's rest but she'll be back to face Australia tomorrow. I think we just need to be as professional as we can against the Aussies.
"The key is to go in, finish it and be well rested and prepared for Wednesday since we have the last group match and the quarter-finals on the same day."
Meanwhile defending champions Egypt – led by the newly-crowned world junior individual champion Hania El Hammamy (pictured below in early team action) – also got off to a storming start with a merciless display in beating Singapore 3/0 in Group A.
Third seeds Hong Kong China also enjoyed an easy start in Group C, winning both their matches against New Zealand and Ireland 3/0.
Fourth seeds England also got off to a winning start, beating Republic of Korea 3/0 and then South Africa 3/0.
Full Results & Coverage on WSFWorldJuniors.com