India celebrated an historic first ever double as Saurav Ghosal and Joshna Chinappa won the men's and women's crowns at the 20th Asian Individual Squash Championships in the Malaysian capital Kuala Lumpur.
Chinappa successfully retained the women's title after fending off a strong challenge by top seed Annie Au of Hong Kong in the final at the National Squash Centre in Bukit Jalil.
The Indian number one was certainly fired up as she stuck to her game plan for an 11-5, 8-11, 11-6, 11-6 win.
The match was a display of excellent shot-making and retrieval but it was Chinappa who drew first blood by taking the first game 11-5. World No.11 Au did well to keep herself in the game and as she stepped with a more aggressive approach to level proceedings.
But Joshna wasn't going to let this slip away and she took crucial points before sealing the win in 42 minutes.
"I lost to Annie in our last three meetings with a 3/0 scoreline so this was obviously going to be hard match but I felt I was much better prepared this time," said the 32-year-old Chennai native.
"Physically I felt I was in good shape and I also thought she was struggling a bit on the big points so I wanted to capitalise on that.
"Of course, there were times when the game was getting away from me for a bit so I tend to fire myself up on court so that I can take the next few points seriously and I'm so happy to win this."
In doing so, Chinappa also becomes the first woman since record nine-time champion Nicol David to successfully retain the title.
"I mean wow…Nicol's shoes is such a big one to fill and I've only done one tenth of what she's done so I'm really pleased to get this result," added Joshna.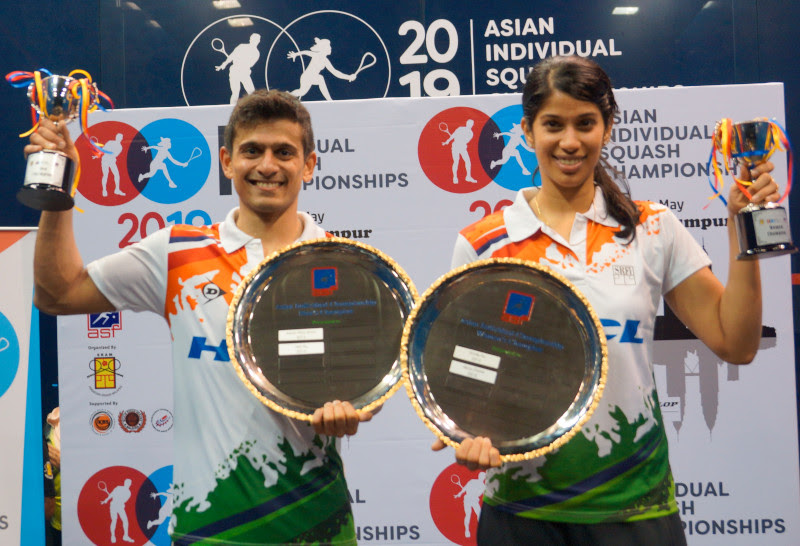 Buoyed by Joshna's success, world No.10 and top seed Saurav Ghosal went on and completed a fabulous day for India by beating 2015 winner Leo Au 11-9, 11-2, 11-8.
It was a long hard match especially in the first game as Annie Au's brother Leo stuck close to Ghosal and picked up almost every shot.
The Indian showed his top 10 pedigree with a quickfire grab of the second game before winning the points when it mattered to take the win, also in 42 minutes.
In doing so, Ghosal becomes the first ever player from India to win the men's Asian title.
Saurav certainly exorcised some demons of old after falling short numerous times in Asian tournaments, most notably in the final of the Asian meet in 2017 and the final of the Asian Games in 2014.
"I thought Leo played really well in the first and third games. It was some of the best intensity I've seen from him and it's all credit to him," said Saurav.
"But I stuck to the plans that I wanted to for the most part. There were certain patches where it went off and he took advantage of that but I'm still very pleased to win 3/0 against Leo who has been playing so well all week.
"Of course, winning a tournament is always great, winning my first Asian title is also pleasing but to do it together with Joshna is simply unbelievable.
"If someone had told us 15 years ago that India would win the double, I wouldn't have believed it. But it's happened and hopefully it will lead to a lot more in the future."
India's National Coach Cyrus Poncha added: "It was a fabulous result in the Asian Championship. What was missed two years ago, we have for the first time won both the titles. It is a massive achievement and both players have been working hard for this. Saurav is in the top 10 in the world and Joshna is 15. A system was set two decades ago has now begun to push Indian squash forward in a glorious way."
The winners both received the ASF Challenge Trophy which was presented by Asian Squash Federation (ASF) president David Mui.