Egypt is currently dominating world squash and the Black Ball Sporting Club in New Cairo will play a starring role on World Squash Day, this Saturday 12 October.
The new club, with 19 courts, has already hosted two major PSA World Tour events in its first year of operation.
Karim Abdel Gawad and Raneem El Welily won the separate men's and women's events staged on the Black Ball Club's own spectacular all-glass show court in December and March.
The same court will be put to good use on World Squash Day when the club opens its doors to attract new players.
Squash Director Ashraf Hanafi said: "We will be welcoming new players and also inviting local schools to join us on World Squash Day."
A special film titled The Squash Pharaohs, about the current Egyptian stars at the top of both the men's and women's world rankings, is being premiered at the Black Ball Club on the following Saturday (October 19th).
World Squash Day is endorsed by the World Squash Federation and the Professional Squash Association (PSA), who are supporting efforts to attract one million new players to the sport over the next decade.
The UK is leading the way with more than 200 events. England Squash have set the bar very high, offering clubs equipment and funding packages in partnership with leading squash brand Karakal.
Former world champion Nick Matthew is spearheading a week-long project at his lifelong training base, the Hallamshire Tennis and Squash Club in Sheffield.
Matthew, who won the world title three times alongside three British Open triumphs, said: "The World Squash Day programme has already started with a Season Launch event and the Nick Matthew Junior Open, an England Squash sanctioned Bronze event.
"On Wednesday we host our first Yorkshire League home match of the season, and on Thursday the Nick Matthew Academy will be holding an Open Evening with free sessions for junior players of all abilities from far and wide."
Youngsters will have the opportunity to get on court with Matthew (revealed below) and coaching partner Neil Guirey, and learn from conditioning expert Mark Campbell on the fitness side of the game.
Hallamshire will be hosting a full programme of fun activities on World Squash Day, holding junior and adult drop-in sessions throughout the day.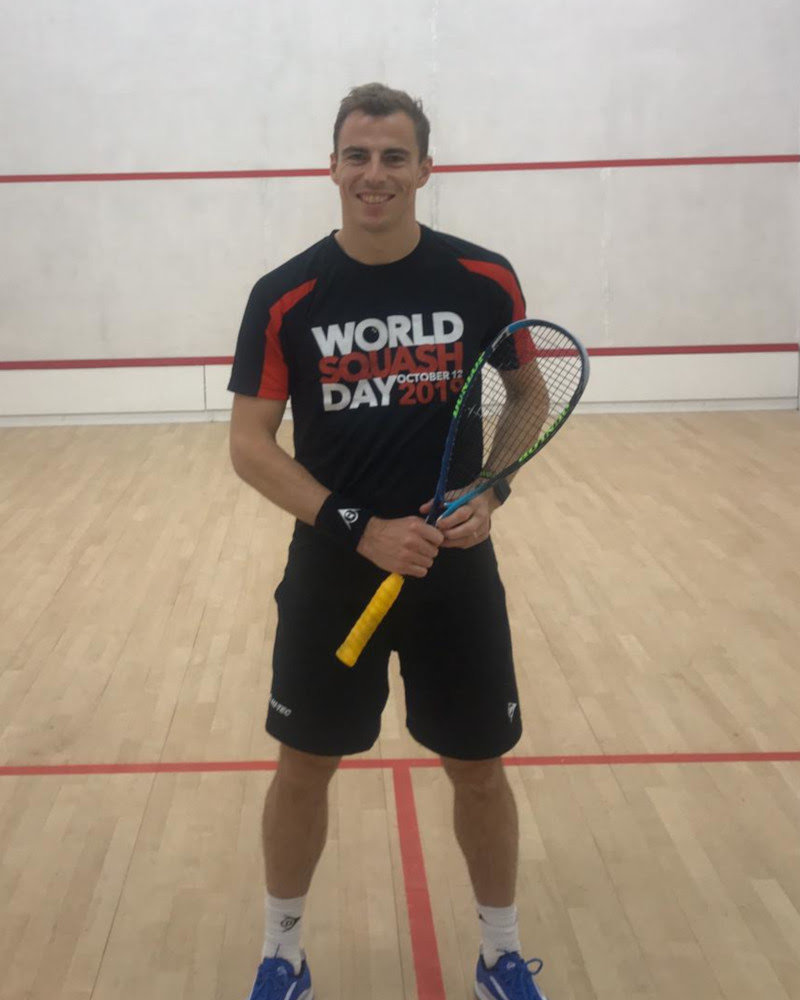 As well as Hallamshire, World Squash Day has kicked off a week early in Luxembourg with events being held at one venue that closes this week for refurbishment.
In Scotland, Inverness Tennis and Squash Club are holding a 24-hour squash marathon to raise funds for the Highland Hospice starting at 7pm on Friday. On World Squash Day the club will be encouraging members to introduce family and friends to the game, alongside a doubles competition, squash-related challenges and some fun activities.
The USA will be celebrating World Squash Day in style, with events coinciding with finals day of the US Open at Drexel University in Philadelphia.
Events are taking place across the country where World Squash Day was launched following the death of numerous squash players during the terrorist attacks of 9/11.
World No.7 Diego Elias is scheduled to make an appearance at a World Squash Day event in Miraflores in Peru alongside his fitness coach Roberto Aliaga – although Elias might have to change his plans if he reaches the final in Philly!
Events are also taking place across South America in Brazil, Bolivia, Argentina and Colombia.
In Australia, squash enthusiasts will be taking to the streets in Brisbane to hit balls against the walls of landmark buildings to raise the profile of the sport.
Indoors, the Daisy Hill Club, managed by Malta star Bradley Hindle, will be holding a massive day of activity on the Saturday followed by a special awards evening on the Monday.
While Aussie ace Cameron Pilley will be competing in the US Open, his family back home in Australia will be planning the WSD event at Club Coops in Carseldine, Queensland, promising a day of fun and fitness.
In India, former national champion and PSA World Tour star Ritwik Bhattacharya's growing academy is running World Squash Day camps at squash clubs and military bases.
The World Squash Day map www.worldsquashday.net/sign-up-here/ tracks every registered event, revealing activities from Armenia to America, from Lebanon to London, from Wagga Wagga to Vancouver, from Cape Town to Cairo, from Malaysia to Mexico, from Thailand to Toronto, and from China to Cochabamba in Bolivia.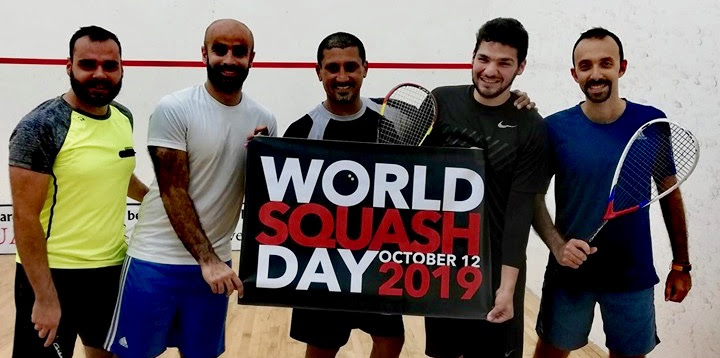 Our picture shows members of the Miramar Club in Tripoli (above) preparing for the big day as Nick Matthew tries on his World Squash Day shirt at Hallamshire.
For further information on World Squash Day, please visit www.worldsquashday.net