The Croatian Squash Federation brought the 2015 WSF Ambassador Programme tour to the Balkans to a mighty climax with an action-packed two-day visit to the Croatia capital Zagreb.
Malaysia's world No.1 Nicol David and Spain's highest-ranked squash player of all-time Borja Golan led the latest World Squash Federation initiative in the third leg of a week-long trip which began in Serbia and then took in Romania.
Launched four years ago, the ongoing WSF international promotional project takes two leading squash players, together with an international coach and referee, into younger squash nations to help raise the sport's profile – through clinics, exhibition matches, refereeing and coaching seminars, and media presentations.
A 7.00am start on the opening day saw David & Golan discussing the appeal of squash live on the HRT1's "Good Morning Croatia" – and less than an hour later, the WSF Ambassadors were welcomed in the Zagreb Town Hall by the city's dynamic Mayor Milan Bandic.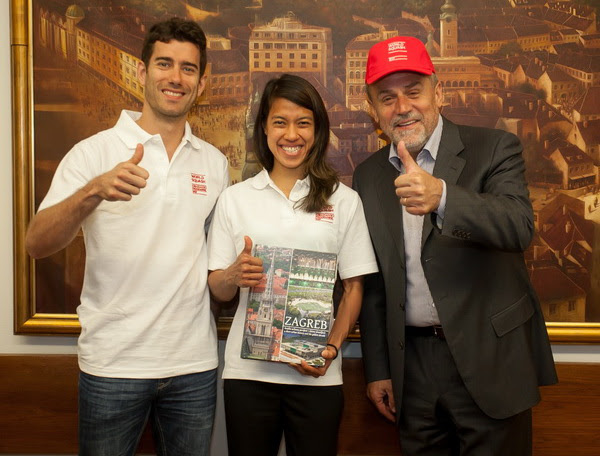 "It's a great honour to host you here in Zagreb," said the sport-loving Mayor (pictured above with David & Golan) who is in his fifth four-year term. "We are more than ready to host more events in squash here."
Bandic, who later posted pictures of the visit on his Facebook page, was so taken by the squash ambassadors that he invited them to join him for lunch later in the day at the city's annual flower show at Bundek Park.
But the group's next appointment was with the Croatian Olympic Committee and Vice President Morana Palikovic Gruden. "Squash is a great sport," said Ms Gruden, who is also Chairwoman of the Women in Sport Commission.
Croatian Squash Federation President Vedran Režić thanked Ms Gruden for the NOC's backing. "Our association has always had the full support of the Croatian Olympic Committee and we are very grateful for that.
"The squash family in Croatia is small, but the world family is a big one."
Gruden added: "The city's mayor is a big friend of sport. We hope that Zagreb will be the European centre for squash."
The WSF party also met Croatian Olympic Committee President Zlatko Matesa, a keen squash player (pictured above, centre, with [L to R] Režić, Golan, David & Andrew Shelley). "The success of squash in Croatia is all down to Vedran Režić,"said Matesa.
Media interest in the sport's Zagreb visit continued unabated back at the city's biggest club SquashTower where a press conference attracted a variety of media including HRT1, Nacional, HRT Radio, Zdrava Krava, 24H, Radio Kaj, Radio Martin, Radio Z1 and Jabuka TV.
After lunch with Mayor Bandic, the party returned to SquashTower to meet Croatian players (pictured above).
The climax of a six-month wait for Franka Vidovic came when the 10-year-old stepped onto the court with Nicol David.
"I want to be like Nicol," gushed the local prodigy who only took up the game two years ago and won the Croatian U13 title when she was nine years old – and is already No8 in the European U13 rankings!
Roko Voncina (pictured above with David & Vidovic) is another promising Croatian junior, also coached by Vedran Svonja. After playing Golan, the 14-year-old from Zagreb said: "Before the match, I just was thinking about playing squash full-time – but now I have decided that I will!"
The four-court SquashTower Club was packed with enthusiasts from far and wide who revelled in the spectacle of watching David and Golan playing against locals, and against each other. Amongst the crowd was NOC President Matesa and Croatia's Malaysian Ambassador Mohd Noh Md Yunus.
In addition to further TV interviews with Zagreb TV, Croatian National TV 1 and 2, RTL TV, and Sports TV, the WSF Ambassadors also undertook a variety of press interviews – one of which resulted in a 3-page colour feature on David in the weekly news magazine NACIONAL (see below, David reading the article in Zagreb's main square).
In summing up the success of the Croatia visit, federation President Režić said: "The WSF Ambassador Programme is a great opportunity for squash countries which are developing squash. It helps and gives hope for young players to train more and achieve better results, maybe one day as Nicol and Borja.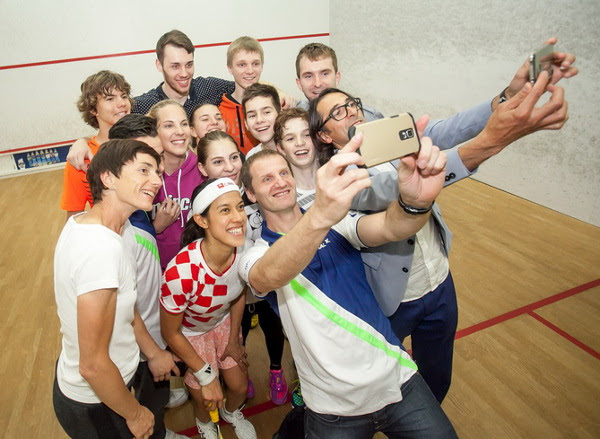 "Also it offers a great opportunity for national team and local and club members (seen above in the ultimate Croatian squash 'selfie') to meet and play with such outstanding athletes.
"I had never before met Nicol and Borja in person before and I have to say that both of them are outstanding athletes and are great promotors of squash. There are not many outstanding athletes with such nice personalities!
"The Croatian Squash Federation has been working for the last seven years, mainly with juniors, and I strongly believe that in a few years we will have more juniors in the European top 10 lists and that we will bring a medal from the Olympic Games. We are a lucky country in that we already part of the Olympic family in Croatia and have their support.
"Once again, many thanks to the WSF for this opportunity," Režić concluded.
Nicol David, a 'veteran' of all but one of the WSF Ambassador visits, said: "This is my first time in the Balkan region and the moment I landed at our first stop in Belgrade, I knew I was going to experience something pretty special.
"Each country we visited had a lot of similarities but are completely different in their own way as we explore their capital cities further while the locals share their stories about their countries' history. The squash people that have hosted us throughout our tour have been really hospitable in every sense of the word.
"The thing that stands out the most is their passion for squash just from their enthusiasm and commitment to the sport. Serbia's first squash club, SquashLand, is only 10 years old – and yet they already have a group of young players competing within the Balkans and Europe. All the kids we met in each country have had a lot of squash knowledge and were excited to show their skills against Borja and myself.
"It's also my first time traveling with Borja and he was really engaging with the kids and players everywhere we went. He's such an unassuming person and it was nice to get to know him better outside the squash tour as well. It was a real pleasure working together with him throughout this tour.
"I came to the Balkans not knowing what to expect but after the whole week, I've just been truly inspired by the lovely people that have shared their joys and struggles to make things happen for squash in their country. I hope that our WSF Ambassador Programme will help them get more awareness within their country to grow the sport further.
"The federations and everyone involved from each country have put a lot of effort into making our trip a successful one and they certainly made it all worthwhile for us. Thanks for making us feel part of the Balkan squash family!"
Ambassador debutant Borja Golan, added: "Firstly, I want to thank the World Squash Federation for giving me the opportunity to participate in this great event. I had never visited Serbia, Romania and Croatia before and I was surprised how nice these three places were.
"Squash still has a short life and tradition in these countries but the hard work they are spending to put the sport in another level is simply admirable and I'm sure they will have great players in the near future," explained the former world No.5.
"Also I felt really honoured to share these last few days with the world number one Nicol David. I knew how good she was on court but didn't know how humble, charismatic and accessible she was outside – always with a smile in her face.
"And the last and probably most important is how well the Serbians, Romanians and Croatians treated us. They gave 200% to make this trip perfect for us. I can't believe how well they looked after us!
"When someone asks me what I most like from squash, normally I say I like to compete, know different countries, be your own boss, etc. But the best thing without any doubt is the people you meet in the squash world. More than any win or trophies, they will always be in my memories."
WSF CEO Andrew Shelley concluded: "The countries we visit tend to say that having the WSF Ambassadors group there inspires them – but we are hugely inspired too. The enthusiasm and passion of the players and the Federations is infectious. They love squash, they want it to grow, they will not rest until it does.
"More courts will be built, young champions nurtured and we will certainly see the initials of the Balkan countries after more names in Tour event draws. Our help in enabling media and player interaction is only a small thing compared with the efforts made on an ongoing basis by the local sports leaders.
"We are blessed by having players such as Nicol and Borja, along with referee Roy (Gingell) and coach Ronny (Vlassaks) freely giving their time, and the relationships made will only grow in the coming years. We are blessed having the catalysts in the countries."
The WSF Ambassador Programme first visited the Baltic country of Latvia in 2011, followed by a trip to the African countries of Malawi and Namibia, then Panama and Venezuela in 2013, before last year journeying to Papua New Guinea.