While Malaysia's Nicol David celebrated a remarkable fourth Squash gold medal in the 17th Incheon Asian Games in the Republic of Korea, it was a historic first gold for Kuwait when underdog Abdullah Al Muzayen recovered from 2/0 down to topple top seed Saurav Ghosal in the men's final at the Yeorumul Squash Centre in Incheon.
Nicol David, who has topped the women's world rankings unopposed since August 2006, won her first Asian Games gold medal in Thailand in 1998 – aged just 15 – then triumphed again in 2006 in Qatar and 2010 in China.
In her fifth successive final, but the first all-Malaysian, the 31-year-old from Penang recovered from a game behind to beat fellow Penangite Low Wee Wern, the No2 seed, 9-11, 11-6, 11-5, 12-10 in 60 minutes.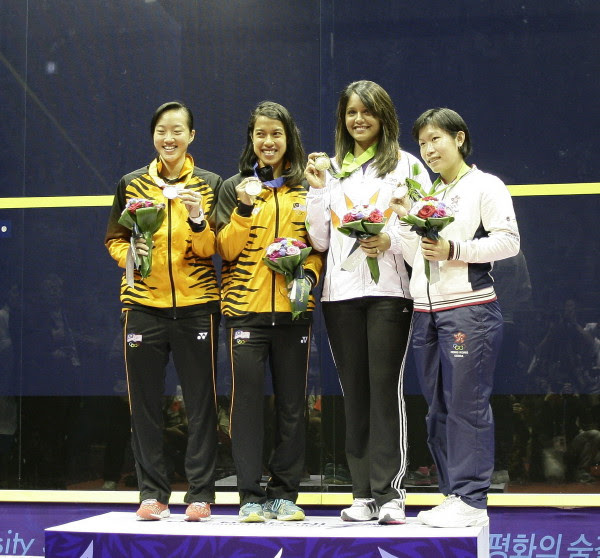 'This is a special Gold medal win for me having both Wee Wern and myself in the finals here at the Asian Games," said David (pictured above, second left, at the medal ceremony). "It was a tough battle out there having to beat her but I managed to get through in four games. Certainly a proud moment seeing for the first time two Malaysian flags fly high as gold and silver while standing on the medal podium. Now it's back into it with the team events and will hope to keep this momentum going."
Al Muzayen was making only his second appearance in the Asian Games after reaching the quarter-finals in 2010. The 26-year-old 5/8 seed began his giant-killing Incheon run in the quarter-finals, beating Malaysia's 3/4 seed Mohd Nafiizwan Adnan before removing Hong Kong's second seed Max Lee in a 75-minute semi which went the full distance.
In his first victory over Ghosal for more than six years, the Kuwaiti left-hander fought back from two games and match-ball down in the third to beat the world No16 from India 10-12, 2-11, 14-12, 11-8, 11-9 in 87 minutes.
"It was a tough match for me," the world No46 (pictured above in action with Ghosal) told Inside The Games afterwards. "When I was down two love, I said to my coach that I'm done.
"But during the third game, I did not give up and I wanted to get that chance to come back to the game."
RESULTS: 17th Incheon Asian Games Squash Championships, Incheon, Republic of Korea

Men's quarter-finals:
[1] Saurav Ghosal (IND) bt [5/8] Nasir Iqbal (PAK) 11-6, 9-11, 11-2, 11-9 (58m)
[3/4] Ong Beng Hee (MAS) bt [5/8] Leo Au (HKG) 11-8, 9-11, 11-9, 11-7 (68m)
[5/8] Abdullah Al Muzayen (KUW) bt [3/4] Mohd Nafiizwan Adnan (MAS) 11-7, 6-11, 11-6, 11-6 (65m)
[2] Max Lee (HKG) bt [5/8] Abdulla Mohd Al Tamimi (QAT) 11-4, 11-5, 9-11, 8-11, 11-2 (55m)
Semi-finals:
[1] Saurav Ghosal (IND) bt [3/4] Ong Beng Hee (MAS) 11-9, 11-4, 11-5 (45m)
[5/8] Abdullah Al Muzayen (KUW) bt [2] Max Lee (HKG) 6-11, 11-8, 4-11, 11-6, 11-8 (75m)
Final:
[5/8] Abdullah Al Muzayen (KUW) bt [1] Saurav Ghosal (IND) 10-12, 2-11, 14-12, 11-8, 11-9 (87m)

Women's quarter-finals:
[1] Nicol David (MAS) bt [5/8] Misaki Kobayashi (JPN) 11-7, 11-5, 11-7 (31m)
[3/4] Dipika Pallikal (IND) bt [5/8] Joshana Chinappa (IND) 7-11, 11-9, 11-8, 15-17, 11-9 (87m)
[3/4] Annie Au (HKG) bt [5/8] Maria Toorpakai Wazir (PAK) 11-3, 11-4, 11-4 (18m)
[2] Low Wee Wern (MAS) bt [5/8] Joey Chan (HKG) 11-6, 8-11, 11-6, 11-5 (53m)
Semi-finals:
[1] Nicol David (MAS) bt [3/4] Dipika Pallikal (IND) 11-4, 11-4, 11-5 (25m)
[2] Low Wee Wern (MAS) bt [3/4] Annie Au (HKG) 11-9, 11-5, 11-5 (39m)
Final:
[1] Nicol David (MAS) bt [2] Low Wee Wern (MAS) 9-11, 11-6, 11-5, 12-10 (60m)