After success in both Squash Singles championships in the Commonwealth Youth Games in Samoa, Malaysia pairings clinched the titles in the three Doubles events at the Tuana'imato Sports Facility in Apia to give the Asian nation an unexpected clean sweep of all the gold medals.
Men's singles champion Eain Yow Ng struck gold for the second time, partnering Andrea Lee to an 11-7, 11-3 victory over unseeded Indians Harshit Jawanda & Velavan Senthilkumar in the Mixed Doubles final (see presentation picture above).
The predicted Men's Doubles final went the full distance, with top-seeded Malaysians Mohd Farez Izwan & Marcus Wei Jie Sim ultimately triumphing 11-8, 8-11, 11-10 over Alex Eustace & Joseph White, the No.2 seeds from Australia (medallists pictured below).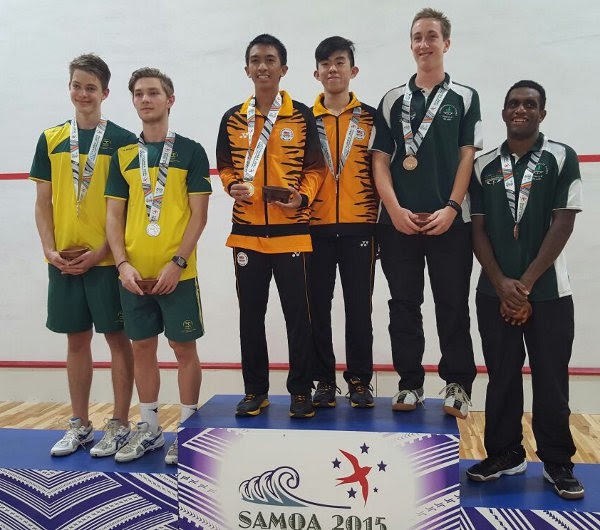 But another dramatic final brought the Women's Doubles championship to a surprise outcome when second seeds Zoe Foo Yuk Han & Andrea Lee survived two tie-break games to upset New Zealand favourites Eleanor Epke & Abbie Palmer 11-10, 11-10.
The win gave 16-year-old Lee, winner of the Asian Junior Championship last month (pictured below with fellow women's medallists), her second gold medal of the day!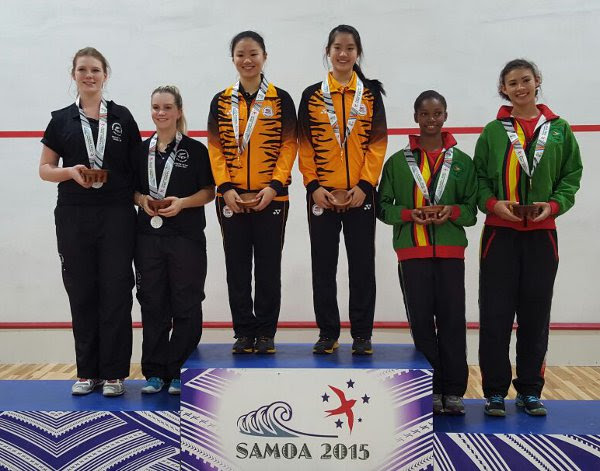 Two countries joined the squash medals table for the first time when Marc Kalsrap & Aidan Rowston of the Norfolk Islands claimed bronze in the men's doubles, and Guyana pair Taylor Fernandes & Larissa Wiltshire took bronze in the women's doubles.
Commonwealth Youth Games Squash Championships, Apia, Samoa

Men's Doubles Final:
[1] Mohd Farez Izwan & Marcus Wei Jie Sim (MAS) bt [2] Alex Eustace & Joseph White (AUS) 11-8, 8-11, 11-10
Bronze medallists: Marc Kalsrap & Aidan Rowston (NFK)

Women's Doubles Final:
[2] Zoe Foo Yuk Han & Andrea Lee (MAS) bt [1] Eleanor Epke & Abbie Palmer (NZL) 11-10, 11-10
Bronze medallists: Taylor Fernandes & Larissa Wiltshire (GUY)

Mixed Doubles Final:
[1] Andrea Lee & Eain Yow Ng (MAS) bt Harshit Jawanda & Velavan Senthilkumar (IND) 11-7, 11-3
Bronze medal play-off:
[4] Abbie Palmer & Luke Jones (NZL) bt Carrie Hallam & Richard Hollins (SCO) 11-8, 11-7