Defending champions Egypt fulfilled their seeding in the CGG WSF Women's World Team Squash Championship in China, successfully retaining their title by beating perennial rivals England, the No.2 seeds, 2/0 in the final of the biennial World Squash Federation championship at the Xigang Gymnasium in the seaport city of Dalian.
It was the two nations' fifth meeting in the final in since 2006 and Egypt's fourth triumph over the seven-times champions.
Things looked to be going the way of the favourites early in the opening match between the third strings Nouran Gohar and Londoner Alison Waters (both pictured below). Such is the might of the Egyptian squad that they were able to rest their number one – the world No.1 Nour El Sherbini – yet still field at third string Nouran Gohar, the squad number four who is ranked six in the world!
Gohar raced to a two-game lead – but Waters, earning her 140th international cap for England, battled back to level the match. It took just less than an hour but Gohar finally nailed her opponent, winning 11-9, 11-9, 6-11, 7-11, 11-7 in 55 minutes.
Experienced Egyptian world team championship campaigner Raneem El Welily then faced England's Laura Massaro – both former world number ones. The match was the pair's 31st meeting since May 2004 – with the English player having a 19-11 head-to-head advantage going into the match.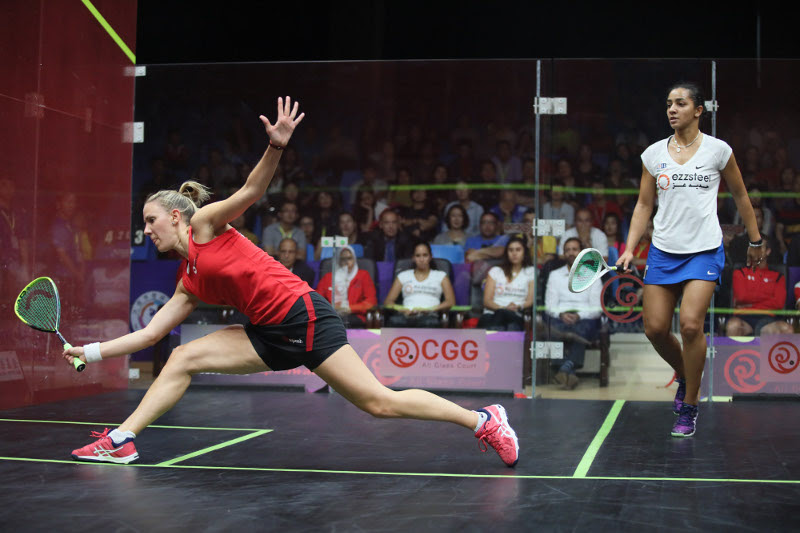 El Welily, the reigning world No.2, took a two-game lead over Massaro (both pictured above) before the Lancashire lass reduced the deficit by winning the third game. But the fourth game was a short affair, El Welily dropping just three points before winning 11-3, 11-8, 9-11, 11-3 to give the title to Egypt.
"You always forget about how hard it is for managers and coaches to watch the players – especially on the women's side where it's all about tactical squash," said Egypt coach Amr Shabana, the four-time world champion afterwards. "The attrition and speed has gone up in the last ten years. But at the end of the day it's very tactical – and you can see the tactics going back and forth.
"So I am very proud of the girls especially after Nour El Sherbini messed up her Achilles tendon yesterday – so I am very happy that they stuck together and kept it together."
When asked if the approach to this fifth final against was any different from before, Shabana responded: "I tried to fire them up: I asked them, just before they started to warm up, how many times they have won the world team title? I know England has won it seven times – but how many times have you won it, how many times did England win it?
"It is only four. So I said, you are not exactly favourites here; you are not used to that feeling. You still have a long time before you can say you are dominant – and that's what I wanted them to know. I wanted to remind them, it's not us on top of the mountain, it's actually England on top of the mountain. It's up to us to work our way up to that."
When reminded that Australia have won the title nine times, Shabana immediately said: "So we are not even among the two best teams yet! We might be higher in the rankings but by far we're not the most dominant nation as of yet. Yes, we're higher-ranked right now, but people tend to think we have always been this!"
Which nations represented the biggest potential threat to Egypt in the future? "Hong Kong, Malaysia and India – in that order," said the coach. "After that you can see USA coming up next. Hong Kong have an amazing system, as does Malaysia. And USA wants to show off that university mentality."
England coach David Campion was not dismayed by his team's performance: "We were fairly confident Alison might be able to get us off to a decent start with her track record against Gohar. But, to be fair, both Raneem and Gohar played really well for Egypt – both played superb squash. And from 2/0 down when Al came back I thought she might be able to do – but it wasn't to be.
"They both gave it everything. Laura's match with Raneem was a quality match. Raneem was superb and when she plays like that she's very difficult – she beats everybody when she plays like that.
"We can't really be too disappointed with the outcome when you see the level of squash they play at today.
"It's another silver medal against Egypt. We'll keep fighting away and hopefully keep as competitive as this going forward!"