After a glittering squash career in which she has won every prize on offer, Malaysian superstar Nicol David could hardly have dreamed of a better way of celebrating her 35th birthday than by claiming a record fifth Asian Games gold medal – 20 years after winning her first.
The former world number one – a title David held for an unprecedented 109 months in a row – defended the title she last won in Incheon in 2014 after again surviving a final against a fellow countrywoman. This time, at the Gelora Bung Karno Sports Complex in the Indonesia capital Jakarta, David had to fight back from 2/1 down to overcome teenager Sivasangari Subramaniam – her undoubted successor – 11-13, 11-9, 5-11, 11-6, 11-8 in 52 minutes (both pictured above in final action).
While David was marking her sixth successive appearance in the event – the only player in Jakarta to have also competed in the inaugural event in Thailand in 1998 – Subramaniam was making her debut. The 19-year-old 5/8 seed from Kedah claimed two of the biggest scalps of her brief career to reach the final, seeing off second seed Annie Au in the quarter-finals, then world No.16 Joshna Chinappa in the semis to set up a meeting with her idol for the first time.
"It's always nice to win the gold for Malaysia," David, from Penang said. "This win also means a lot to me too as this is likely my last Asian Games.
"Of course it was a really close battle too. Sivasangari came into the final having won the biggest matches in career and she had that momentum going. I knew it was always going to be tough and true enough it went to five. I'm really pleased with my performance in the end.
"But I'm also really proud of Sivasangari. She has trained hard and she showed that she can stand among the best too."
The impressive Subramaniam (pictured above, left, with David) added: "I'm satisfied with my individual showing. I had an amazing run and I got to play Nicol. It's certainly a dream come true for me but it's now on to the next one, which is the team event."
The men's final was also a one-nation affair in which second seed Max Lee, the Hong Kong No.1, faced domestic rival Leo Au, the 3/4 seed (both pictured below in action) who upset Indian favourite Saurav Ghosal to reach the final against the odds.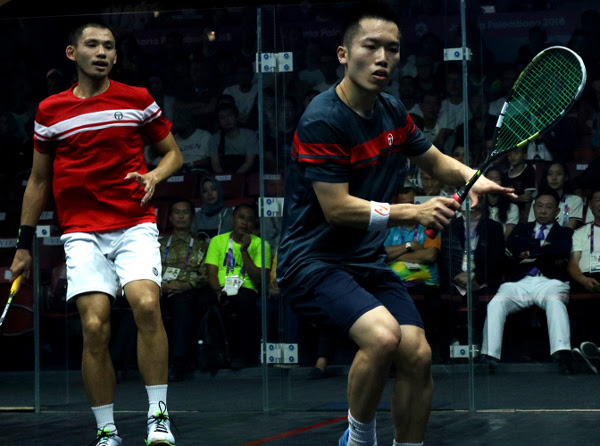 Lee boasted a career 10-7 head-to-head advantage over Au going into the match – but only two months ago lost out to lower-ranked Au in the Hong Kong national championship final.
World No.21 Au carried on where he left off on home soil, and defeated Lee 11-8, 12-10, 6-11, 11-4 to become the first Hong Kong player to claim gold in the men's event.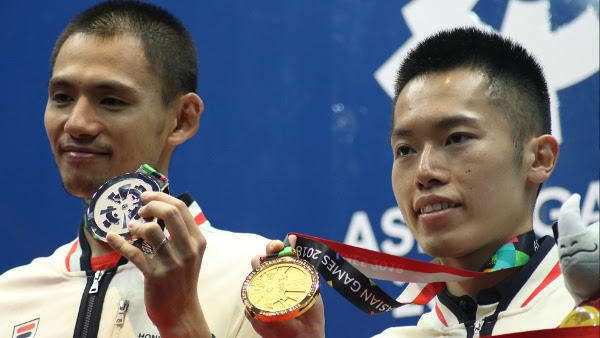 "I think both Max and I played very well today," said the 28-year-old (pictured above, right, with Lee) afterwards. "I'm very happy that we made it a 1-2 finish for Hong Kong.
"On a personal note, I feel that I've finally made it happen for myself. All my hard work and perseverance has finally paid off. I've proven to myself that I can actually do it!"
Men's Final:
[3/4] Leo Au (HKG) bt [2] Max Lee (HKG) 11-8, 12-10, 6-11, 11-4
Women's Final:
[1] Nicol David (MAS) bt [5/8] Sivasangari Subramaniam (MAS) 11-13, 11-9, 5-11, 11-6, 11-8 (52m)
Asian Games images courtesy of Aulia Dyan