Forever in the shadow of neighbours Hong Kong, Macau is aiming high in its plans for Squash following the three-day WSF Ambassador Programme visit to the Chinese special administrative region.
Led by Malaysia's recent world No.5 Low Wee Wern and the four-time Hong Kong national champion Dick Lau – and including Asian Federation Regional RefereeRobert Arrffan, from Singapore, and Dick Leung, the Assistant Head Coach at Hong Kong Squash – the World Squash Federation team was hosted by Macau Squash.
"It's not just Hong Kong we are trying to emulate, we want to tell the whole world that we are coming," said Malaysian Lim Chee Ming, the Head Coach of Macau Squash.
Launched in 2011, the inspired WSF international promotional initiative annually takes two leading squash players, together with an international coach and referee, into younger squash nations to help raise the sport's profile – through clinics, exhibition matches, refereeing and coaching seminars, and media presentations.
Immediately following a three-day visit to Dalian in China, the Macau leg of the 2016 visit kicked off with a School Road Show at Escola Primaria Oficial Lugo-Chinesa "Sir Robert Ho Tung", where two portable and inflatable development courts were erected in the school's sports hall for some 50 pupils aged between 9 and 11.
The enthusiastic youngsters were introduced to the basics of the game by
Dick Leung
(pictured above), aided by Wee Wern and Lau.
The team was invited by Macau Squash President William Kuan to attend the city's Anti-Drug Carnival at the Macau Canidrome where Macau Squash had a booth. The event was opened by prominent Macau entrepreneur Angela Leong On Kei, a member of the Legislative Council of Macau.
(The WSF party at the Macau Canidrome with William Kuan (5th from right); Angela Leong On Kei (4th from right); and Lim Chee Ming (extreme right))
Later, the group journeyed to the Ocean Club to attend a squash fund-raising event. The event, inspired by local businessman Dr Harris Lee, attracted teams from far and wide (including mainland China) and raised more than 20,000 Macau Pataca for the Macau Autism Society.
Macau Squash also ensured that the WSF party visited one of the best tourist attractions the peninsula has to offer. A brave group, led by Lau and Wee Wern (pictured above), walked the famous 'Skywalk' around the outer perimeter that encircles the Macau Tower – in the open air 233 metres high, with stunning views of the 'Las Vegas of Asia'!
A coaching clinic at the Centro de Bowling on the final day attracted numerous local youngsters (pictured above), who were also able to enjoy matches betweenDick Lau and the Macau men's No.1 Steven Liu, and Low Wee Wern and rising local star Yeung ('Chi Chi') Weng Chi. The event was held in the presence ofChao Kuok Wai, Head of Sports Development at the Sports Bureau of Macau SAR Government, and his colleague Wu Lao Ut.
"I'd like to thank the Sport Bureau of the Macau SAR Government who continuously provide us support and funding," said Macau Squash President William Kuan in his welcome speech to the guests. "Thank you WSF for choosing Macau to promote the Ambassador Programme. Through the workshops, activities and training over these three days, we have learnt a lot.
"We'll keep doing our best to promote squash in Macau and without all your support we would not be so successful. Please support us continuously – we'll do even better."
(Sports Bureau of Macau SAR Government representative Wu Lao Ut (2nd from right) enthuses about sport in Macau with (L to R) Robert Arrffan, Andrew Shelley, Dick Lau & Low Wee Wern)
After his various coaching sessions, both with players and fellow coaches, Dick Leung said: "The trip achieved a lot – especially in China where the game is less-developed. All the coaches I saw had the skills, but what they needed was more experience to give them greater confidence – they certainly had the ability.
"There is no doubt that both countries will produce better players over the coming years – but it will take time.
"We have been extremely well looked-after and the coaching programmes both countries have in place have been well-prepared.
"What strikes me about both countries is that the coaches are generally younger – so they are bringing to the table young ideas, like using social media."
Robert Arrffan (pictured, centre, below) focussed on newer aspects of the Rules of Squash in his refereeing seminars. "None of the candidates on the refereeing seminar in Macau had ever been on an official course before – so most of the time I was persuading them to unlearn what they knew – especially on terminology.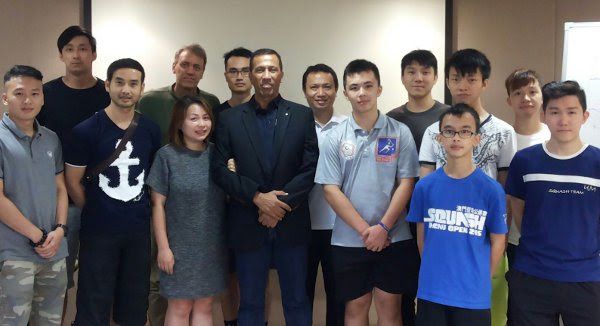 "The main issue we focussed on was the interpretation of 'interference' – leading to 'lets', 'no lets' and 'strokes'. The latest rules focus on 'no easy lets' – meaning more 'no lets' and 'strokes'. I urged them to practise as much as possible with all sorts of games, from social to tournament.
"Refereeing is not just about making the right decisions, but about explaining why you've come to those decisions too.
"I've thoroughly enjoyed my time as a WSF ambassador and am glad to report that both the Chinese and Macau associations have invited me back to help with further development in their own national referee certification."
Dick Lau, making his debut as a player Ambassador, felt a close bond with the players he worked with. "It's been a great opportunity for me to be involved with this programme, especially in two countries where, because I am from Hong Kong and speak Cantonese, I have a lot in common with the players.
"China is a big country and I hope that this will lead to more success for players there, which could ultimately boost our chances of getting into the Olympics.
"I would like to become more involved with squash in these countries – I feel I have a lot of experience which could be useful.
"Let's hope this visit will give both countries the opportunity to develop a bigger base on which to build success in the future – just like Hong Kong did 15-20 years ago. When I was around seven or eight, there were very few players of the same age, yet now there at least 200 playing in junior tournaments at home."
(Wee Wern & Lau with Steven Liu and Yeung Weng Chi)
Low Wee Wern, who made her WSF Ambassador debut in Papua New Guinea in 2014, added: "This trip has been really good – it was nice to see a small city like Dalian show what can be achieved with things like four glass courts in a venue. They have the facilities to produce better players in the future and are keen to have more events, which is vital for the sport's growth.
"The number of kids who came along to the clinic here in Macau was really impressive. It's clear that Lim (Chee Ming) is bringing Malaysian expertise over here – you can see this in the way these youngsters play and this will give them a good foundation.
"Chi Chi is a good example of this – because of Lim's efforts with her over the past three years, the basics of her game are good because she started at the right time. She seems really keen and is already doing well in international junior events so let's hope that players like her will help bring more attention for squash in Macau."
Speaking on behalf of hosts Macau Squash, Lim Chee Ming explained: "Our intention by hosting the Ambassador visit was to promote squash to the people of Macau – and there is no doubt that our players have had their eyes opened to what the potential is.
"Most of our juniors are new to the game – but were keen to come along and be involved with the activities of the last few days. They loved the opportunity to play with Wee Wern and Dick and will learn from this.
"Macau is small, so training programmes are easier to control and it is easier to recruit players. I had an eight-year plan when I started here, and with the structure we now have in place I think things will be better in three years.
"Our players are still young and there is a long way to go, but our current goals are success at Asian Junior level, then at World junior level – we're not yet really thinking as far as the pro tour.
"This Ambassador visit has exceeded our expectations. We hope it will enable us ultimately to prove to the world that we can achieve success."
In summing up the achievements of the sixth and latest Ambassador Programme, WSF Chief Executive Andrew Shelley said: "With the support of sponsorship, our hosts and the group who give their time freely we hope to inspire squash communities – but every year we end up being inspired ourselves!
"Dalian and Macau did just that. Their passion to develop and promote squash is immense, and to play a small part in supporting them is the least we can do. Like so many other places around the world, squash in China is in great hands and I am sure will go from strength to strength. Through this relationship we have forged I am sure that we are better placed to support them."
The WSF Ambassador Programme first visited the Baltic country of Latvia in 2011, followed by a trip to the African countries of Malawi and Namibia, thenPanama and Venezuela in 2013, Papua New Guinea in 2014, before focussing on the Balkan region last year with appearances in Serbia, Romania andCroatia.