A new National Squash Centre in Belgrade, and considerably more clubs throughout Serbia, could be the legacy of the 2015 WSF Ambassador Programme visit to the Balkan country this month according to the Serbian Squash Association President Cedomir Vitorovic.
Malaysia's world No.1 Nicol David and Spain's highest-ranked squash player of all-time Borja Golan led the latest World Squash Federation initiative into Serbia this week in the first leg of a week-long trip which will also take in Romaniaand Croatia.
Launched four years ago, the inspired WSF international promotional initiative takes two leading squash players, together with an international coach and referee, into younger squash nations to help raise the sport's profile – through clinics, exhibition matches, refereeing and coaching seminars, and media presentations.
David, who has participated in all but one of the 'Ambassador' programmes, and debutant Golan, ranked 12 in the world, visited the SquashLand Club in central Belgrade, running coaching clinics and playing against the country's top seniors and juniors.
Jelena Dutina, the five-time Serbian women's champion, was full of admiration for David (pictured above with Dutina) after playing the record eight-time world champion from Penang: "I'm impressed by how beautiful she is as a player – and a person," said Dutina. "It was such an honour to play her. It's made my day – and my year!"
Lana Prokić, the reigning Serbian girls' junior champion (pictured below with David, Golan and a large group of Serbian squash enthusiasts), was overjoyed at the chance to share a court with David. "We all admire Novak Djokovic, the world number one tennis player from Serbia – but Nicol David is the idol for juniors like me," said the 17-year-old. "I try to watch her on SquashTV as much as can.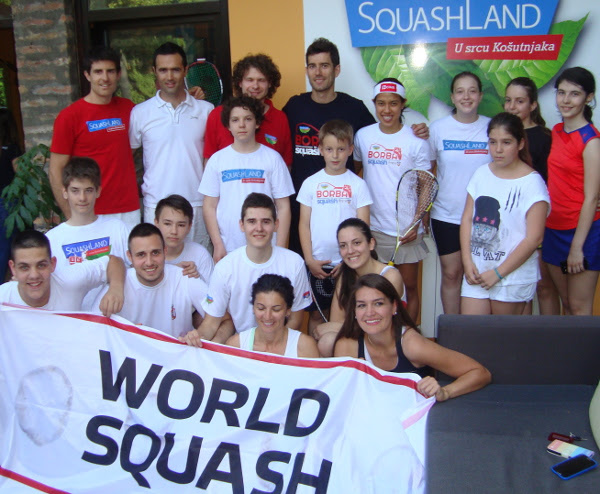 "I have over one thousand friends on Facebook – mostly to do with squash – but I'm sure I'll get more now!"
A group of players from Bulgaria made the 800 km round trip to Belgrade to see the WSF ambassadors. "We love squash and when we heard that Nicol and Borja would be so close, we had to come and see them – with the hope of playing them,"said Aneliya Dukova.
Damir Stajner, Executive Director of the Olympic Committee of Serbia, also visited the club to meet the players and WSF CEO Andrew Shelley, who was able to update him on squash's efforts to achieve a place on the programme of the 2020 Olympic Games.
The three-court SquashLand club – the first squash club in Belgrade and Serbia – was opened in 2003. Set in the heart of park land in the Serbian capital, the venture was the inspiration of Serbians Cedomir Vitorovic and Ivan Djordjevic(both pictured above with the two WSF Ambassadors).
The pair went on the set up the Serbian Squash Association, with Vitorovic as President and Djordjevic, a nine-time Serbian National champion, as Sport Director.
The first National Championships were held the following year and by 2010 the Serbian national team had won theEuropean Small Nations Cup! The SSA founded the Balkan Championships and won the title in 2011.
With the threat of closure hanging over their heads – the park owners want to redevelop the whole site, including the club – the SSA are seeking government support to open a National Squash Centre in Belgrade, which would also be the SSA base.
"We don't need money from government – we can earn money from other sources," explained Vitorovic. "What we really need is a piece of land on which we can build our national centre."
After hosting a meeting for the WSF Ambassadors at his government offices, Assistant Minister for Sport Uros Zekovicalso attended a press conference staged at the newly-opened Radisson Blu Old Mill Hotel – joint sponsors of the WSF visit to Belgrade.
[Zekovic pictured above, 2nd left, in his office with (L to R) Golan; David; Vitorovic; & Shelley]
While wishing the sport well in its Olympic ambitions, Zekovic confirmed that at national level the government will continue to support squash in Serbia.
Aleksandar Sostar, President of the Sports Association of Serbia, also spoke at the conference. "Squash is so lucky that the WSF is taking such good care of its members – supporting events like this," said the Serbian Water Polo star.
The conference attracted three television networks – Sport Network, B92 TV and RTS1 – as well as national newspapers including Danas and Atastars.
After seeing the extensive national TV coverage provided by Sport Network, SSA President Vitorovic told the WSF Ambassadors: "Your visit has been the biggest boost we have ever had. We couldn't have hoped for anything better than this.
"I have just received a phone call from the deputy minister telling me that he has arranged for me to meet the Minster of Sport & Recreation next week.
"I hope the government will continue to support us, by not only recognising the sport but helping our bid to create a National Centre.
"I watched Nicol and Borja when they were playing our kids – and they were smiling. My dream is that one of our juniors today will go on to represent Serbia in the 2020 Olympics!
"We are a small sport – and there are many small sports in Serbia – and we currently only have three clubs in the whole country. But we are fighters."
When asked what he hoped the scenario might be for squash in Serbia in five years' time, as a legacy of the WSF visit, Vitorovic responded: "I am confident that we will have a National Centre here in Belgrade and at least ten clubs throughout Serbia.
"You cannot imagine what this visit means to us," continued the SSA President. "You can talk about it, but not imagine!"
The WSF Ambassador Programme first visited the Baltic country of Latvia in 2011, followed by a trip to the African countries of Malawi and Namibia, then Panama and Venezuela in 2013, before last year journeying to Papua New Guinea.