King & Waters Waltz Into Two World Finals In Manchester
Local hero Alison Waters and New Zealander Joelle King will face each twice in Saturday's finals of the WSF World Doubles Squash Championships in England after both came through tough semi-finals in the World Squash Federation event at the National Squash Centre in Manchester.
Waters and former world No.2 Jenny Duncalf, fifth seeds in the Women's championship, produced their second upset in the event when they recovered from a game down to beat second-seeded Indians Joshna Chinappa & Dipika Pallikal Karthik 6-11, 11-6, 11-8 in 50 minutes.
"I was really under the cosh in the first," admitted Duncalf (pictured above with Waters) after their shock victory over the 2014 Commonwealth Games gold medallists. "They're obviously very experienced at this and the pace and power of their shots was catching us out. But we changed tactics in the second and managed to work it out.
"Ali and I are best friends and we always thought we'd play well together. She was injured for Glasgow so hopefully we can stay together for one more shot at the Commonwealths next year.
"For now though, we're just really chuffed to be in the final."
Londoner Waters then paired up with England team-mate Daryl Selby for the Mixed semi-finals – in which they were also 5th seeds. In one of the closest matches in the competition, the English duo prevailed over Tesni Evans & Peter Creed, the No.7 seeds from Wales, 11-10, 10-11, 11-8 in 68 minutes.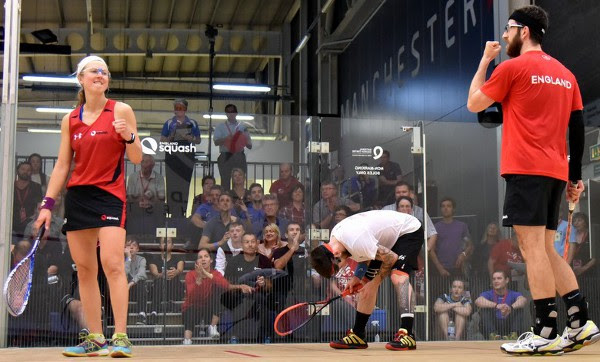 "It was a tough battle, we thought we'd won it in the second at 8/2 but they fought back so well," said Selby (pictured above with Waters). "They're very gritty and tough competitors with lots of skill and good movement, so we just had to try to keep it steady.
"It was probably my least effective mixed match so far, but Ali did really well, considering she'd just had an hour's women's match!"
Waters was thrilled with her unexpected success: "It feels great to be in two finals after two tough matches," said Waters. "I'll be playing the Kiwis in both so it's the same for them, really looking forward to it."
King, a double gold medallist in the 2016 World Doubles in Darwin, reached her second successive Mixed final with Paul Coll after seeing off Aussie Commonwealth games gold medallists Rachael Grinham & David Palmer 11-8, 11-8.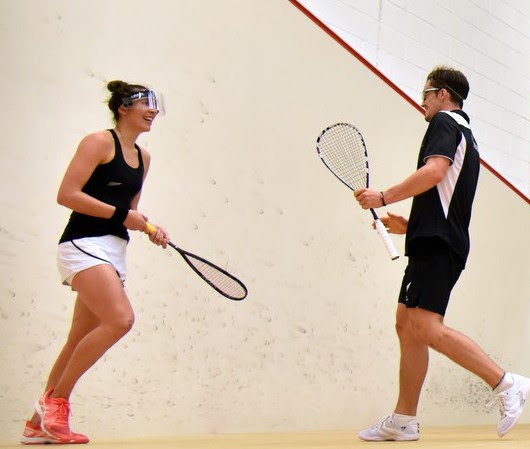 "We lost a pool match last year and managed to come back then," said Coll (pictured above with King). "We feel comfortable with how we're playing, Joelle is hitting the ball better and better, and we know what to expect of each other. We're playing well and obviously we're pleased to be back in the final."
King was paired with Amanda Landers-Murphy in the Women's semis where they received a walkover from Aussies Rachael Grinham & Donna Urquhartafter Urquhart was forced to withdraw following a calf injury.
Scotland's reigning champions Alan Clyne & Greg Lobban returned to the Men's final for the second time in a row after beating Kiwis Paul Coll & Campbell Grayson 11-8, 8-11, 11-8.
"We always knew it would be a long, tough match against them," said Lobban. "Keeping it tight and not making mistakes, that's their strength. But we knew that if we stuck to our game plan and played well we could win.
"We maybe saw the finishing line a bit early in the second and stopped attacking, which you just can't do in doubles, but we managed to get back in track in the third. Great to keep the title defence going…"
Their final opponents will be Aussies Ryan Cuskelly & Cameron Pilley after the No.2 seeds beat England's Declan James & James Willstrop 11-3, 11-7.
"We got off to a good start, and kept our concentration to finish it off," said left-hander Cuskelly (pictured below with Pilley). "We lost a bit of focus in the second, but from 7-all we tightened up again and finished it off well.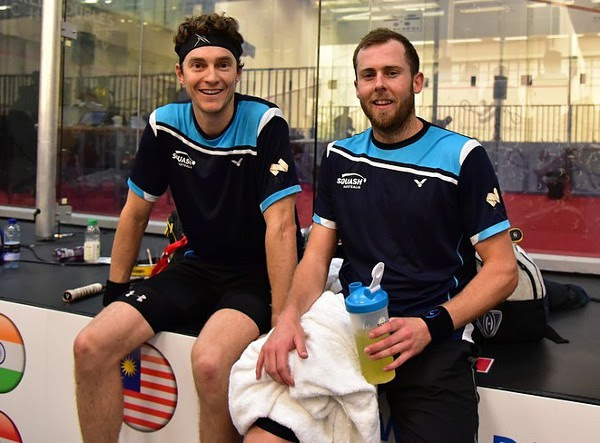 "That's our best performance in the tournament so far, it seems we're getting better round by round, just how we like it!"
MEN'S semi-finals:
[1] Alan Clyne & Greg Lobban (SCO) bt [4] Paul Coll & Campbell Grayson (NZL) 11-8, 8-11, 11-8 (82m)
[2] Ryan Cuskelly & Cameron Pilley (AUS) bt [5] Declan James & James Willstrop (ENG) 11-3, 11-7 (37m)
WOMEN'S semi-finals:
[1] Joelle King & Amanda Landers-Murphy (NZL) bt [3] Rachael Grinham & Donna Urquhart (AUS) w/o
[5] Jenny Duncalf & Alison Waters (ENG) bt [2] Joshna Chinappa & Dipika Pallikal Karthik (IND) 6-11, 11-6, 11-8 (50m)
MIXED semi-finals:
[5] Alison Waters & Daryl Selby (ENG) bt [7] Tesni Evans & Peter Creed (WAL) 11-10, 10-11, 11-8 (68m)
[1] Joelle King & Paul Coll (NZL) bt [4] Rachael Grinham & David Palmer (AUS) 11-8, 11-8 (29m)