All-Egyptian finals to bring World Junior Championships to a KL climax
Despite determined resistance from English opposition in the men's semi-finals and a heart-breaking home bid in the women's, the 2019 CIMB Foundation WSF World Junior Squash Championships will reach its climax in the Malaysian capital Kuala Lumpur in two all-Egyptian finals – for the fifth time since 2011!
In her third successive women's final, twice runner-up and favourite Hania El Hammamy will face second seed Jana Shiha, while top men's seed Mostafa Asal, the defending champion, will line up against surprise opponent Moustafa El Sirty in the other final.
After taking the No.2 seed the full distance in a thrilling women's semi-final encounter in front of a partisan crowd at the Bukit Jalil National Squash Centre, Malaysia's 3/4 seed Aifa Azman went down 10-12, 14-12, 2-11, 16-14, 11-7 to Jana Shiha (pictured celebrating above) – the 64 minute victory taking the Cairo-based 17-year-old into her first world final.
Full Coverage on WSFWorldJuniors.com
Local hopes were high on Aifa, also 17, to make a breakthrough against Shiha, to whom she has never lost in two past meetings.
But the Malaysian couldn't capitalise when it mattered, squandering three match-ball opportunities in the fourth game – 10-9, 11-10, and then 12-11 – as Jana put on a steely performance to hang on.
The Egyptian, who was so calm under pressure, then took her opportunity when it came to level the tie at 2/2.
And that proved to be the turning point as Jana stepped up her pace in the deciding game with Aifa just failing to catch up, eventually sealing the win in 64 minutes – the longest game of the tournament so far.
"I was so many match-balls down but I managed to find a way to save them and somehow win the fourth game," said Shiha, a semi-finalist in 2018. "It gave me a bit more confidence for the fifth game which was tense and I had to stay as calm as I could.
"It feels really amazing to be in the final. Furthermore this is like a double revenge for me, having beaten Marina (Stefanoni) in the quarter-finals and now Aifa.
"Hopefully I can go on to win tomorrow. It is a pleasure to play in an all-Egyptian final and I'll definitely do my best."
Jana will meet world No.15 Hania El Hammamy, who despite dropping the third game, still proved too hot for compatriot Farida Mohamed in an 11-8, 11-6, 4-11, 11-3 win.
Meanwhile a visibly dejected Aifa rued the spurned chances in the fourth that cost her a shot at reaching the final.
"I'm really disappointed because I've never lost to Jana before. I thought I could win the fourth because I was this close having gotten to match-ball first," said Aifa.
"It was really nerve-wrecking as there was a lot of pressure on me and everyone was expecting me to win.
"I did well to get back to 7-all in the fifth but Jana was just too good on the day. Still, I'm proud of myself to reach the semi-finals having come back from injury earlier this year.
"This is just the beginning as there is still the team event. I'll come back stronger for that and I'll make sure to make the final next year to win it."
After her semi-final win, El Hammamy (pictured above in semi-final action) said: "It was a tough match. Farida is a hard-hitting player so I had to dig in to manage well because there are a lot of interference. I'm glad managed to win today to get through to the final. Tomorrow, it is my last world juniors final and I will be really angry if I don't win it so I'll do my best to try and win."
In the first men's semi-final, 3/4 seed Moustafa El Sirty stole the show as he rallied from 2/1 down to upset second seed and his best friend Omar El Torkey (both pictured below) 11-8, 6-11, 10-12, 11-8, 11-7 in 63 minutes.
It will be the 17-year-old's first world juniors final and it also made up for a disappointing campaign at the British Junior Open in January where he lost in the third round.
And El Sirty, who described reaching the final as a 'dream come true' was certainly pleased as punch with his performance.
"It was such a hard game today, not only because Omar is higher-ranked but also because he is one of my closest friend," said underdog El Sirty.
"But I'm so happy to have gotten through to my first final. It's really a dream come true. I remembered when I was nine and I knew I wanted to make the final one day too.
"Last year I only made the semi-finals of the world juniors and I was learning how to be one step better. I still have one more year of world juniors so to reach the final now is really good for me."
Cairo-born and based El Sirty now meets Asal – also from the Egyptian capital – for the title. The world No.29 was a class apart as he powered through to an 11-5, 11-5, 11-2 win over unseeded Englishman Lewis Anderson.
Full credit should be given to 18-year-old left-hander Anderson, however, who came into the tournament with little expectations but managed to take out three seeded players, including 3/4 seed Viktor Byrtus of Czech Republic, en-route to becoming the first unseeded player for 15 years to reach a world junior semi-final!
"It's been an amazing experience for me here, getting to the semi-finals," said the Solihull-based teenager. "Unfortunately Mostafa is a very good player, very strong and I just didn't have enough in the tank after the three big wins.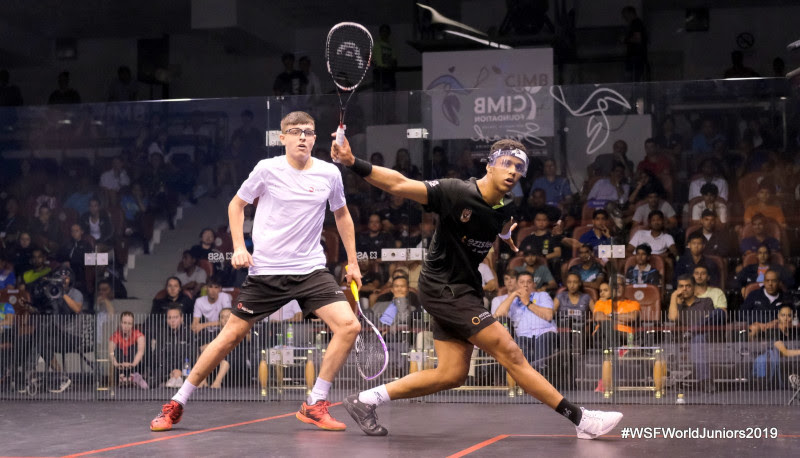 Asal (pictured above with Anderson) added: "I'm happy with my performance and I hope to finish it tomorrow. This is my last world juniors so I hope to make it and be proud of myself. I know Moustafa had a tough battle today so I hope to focus on myself and take my chances against him."
Men's semi-finals:
[1] Mostafa Asal (EGY) bt Lewis Anderson (ENG) 11-5, 11-5, 11-2 (28m)
[3/4] Moustafa El Sirty (EGY) bt [2] Omar El Torkey (EGY) 11-8, 6-11, 10-12, 11-8, 11-7 (63m)
Women's semi-finals:
[1] Hania El Hammamy (EGY) bt [3/4] Farida Mohamed (EGY) 11-8, 11-6, 4-11, 11-3 (54m)
[2] Jana Shiha (EGY) bt [3/4] Aifa Azman (MAS) 10-12, 14-12, 2-11, 16-14, 11-7 (64m)
Full Coverage on WSFWorldJuniors.com