Squash is on the verge of a 'massive boost' in Romania according to TV news anchor man Valentin Butnaru following the 2015 WSF Ambassador Programme visit to the country's capital Bucharest.
Malaysia's world No.1 Nicol David and Spain's highest-ranked squash player of all-time Borja Golan led the latest World Squash Federation initiative in the second leg of a week-long trip which kicked off in Serbia and will also take inCroatia.
Launched four years ago, the ongoing WSF international promotional project takes two leading squash players, together with an international coach and referee, into younger squash nations to help raise the sport's profile – through clinics, exhibition matches, refereeing and coaching seminars, and media presentations.
"Squash saved my life," said Butnaru, who co-hosts the breakfast news programme on Antena 1 TV in Romania – and took up the sport after extensive surgery on his left arm following a major road accident.
"If I had known about squash earlier, I would have taken it up ages ago," added the Romanian TV star who now plays squash for around two hours a day, seven days a week, and also coaches the sport.
"I feel that squash is going to have a massive boom here in Romania. I have trained lots of women over recent years – and not one has given up the sport!"
Romanian sports icon Bogdan Stelea, the goalkeeper who played almost 100 times for Romania and represented the nation in three World Cups and two European Championships, is also a fan of squash.
"Squash complements football well – whenever I had free time, I used to play squash," Stelea (pictured above with David & Golan) told media attending a press conference hosted by the Stejarii Country Club. "You use your hands and your legs – it's a very reactive sport."
Stelea, who spent much of his career in Spain, mainly with Salamanca, played an exhibition match with Nicol David on one of the courts at the recently-opened country club owned by former international tennis star Ion Țiriac.
AeroSquash, boasting five courts and owned by inspirational Costas Bogdan (pictured above, left, with David, Golan, club manager Emil Anghel & WSF CEO Andrew Shelley), is currently the biggest club in Bucharest – but a new facility in the city is due to open in June. The Infinity Sports Arena, owned by Romanian businessman Abbas Tawil, will also feature five glass-back courts and be the new base for the Romanian Squash Federation.
"Infinity will host the European Division 3 Team Championship in 2016," said Federation President George Constantinescu. "This will be our first international championship – and we are very excited by this.
"Abbas Tawil (pictured above, right, with Constantinescu) is a great supporter of squash in Romania – he is the Honorary President of the Federation – and without his help it would be impossible for us to grow the sport in our country."
While David and Golan played a series of matches at Stejarii, refereeing and coaching seminars attracted candidates from all over the country, as well as from neighbouring Bulgaria.
"To run refereeing and coaching programmes together like this in this part of the world is great," said WSF Refereeing Committee Director Roy Gingell. "There was a refereeing course staged in this region just before the recent Balkan championships – and this was a natural follow on from that.
"The course here attracted a great deal of interest – the federation here has a good plan for referees and will need at least 10 for the European Championships here next year.
"We will bring in assessors and I will offer them all possible support and guidance."
Ronny Vlassaks (pictured above, left, with Gingell) directed the coaching workshop in Bucharest. "I had a good group of very keen coaches – the message I was trying to convey is that squash is not just about hitting the ball, but playing the game," explained the Belgian and Dutch National coach.
"It's not only about technique, but other aspects of the game like movement, tactics, the physical and mental approach.
"I am sure the people we had will go away with a new vision of the game and bring a more professional approach to their coaching – they were so keen to learn more."
The climax to the trip was a visit to AeroSquash, where the party were warmly greeted by a large group of enthusiastic fans who had come from far and wide to see the international squash stars (pictured above in the club's helicopter!).
A group of juniors, led by coach Bara Hunor, made the five-hour journey from Sfântu Gheorghe – and were thrilled to have the opportunity to share the court with David and Golan.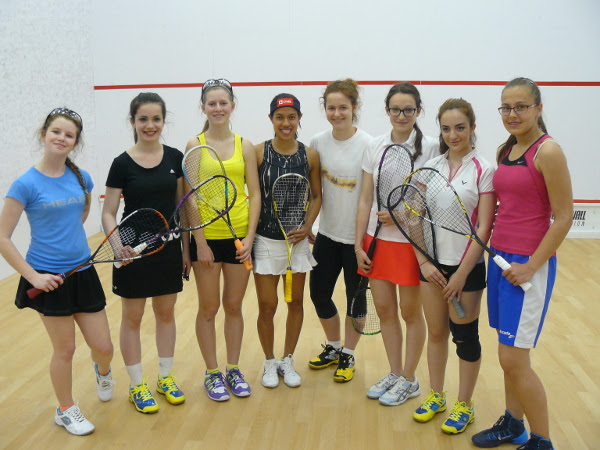 "My kids (pictured above) were so excited to be here," said Bara. "We are organising a summer camp for these youngsters up in the mountains in the summer and they will be so motivated by this."
Romanian prospect Vasile Hapun played a match with Golan and was overwhelmed by the opportunity. "It was really an honour for me to play with Borja," said the 19-year-old who hails from Chișinău in the Republic of Moldova and will join theProfessional Squash Association in September.
"I am very proud that I played so well tonight against such a great player – I now know that I can play well," added Hapun. "I will train hard through the summer and then hope to be the first Romanian to earn ranking points on the PSA Tour."
Federation Honorary President Abbas Tawil was delighted with the event at AeroSquash: "It's been so good for our juniors. They will remember this days for many years and will want to be like Nicol and Borja – it will inspire them."
In summing up the value of the WSF visit to Romania, President Constantinescu said: "It was a great honour to host you – we were all so surprised at how generous Nicol and Borja were to our players.
"I had a call from one of my students, 13-year-old Bogdan Vasile, after the AreoSquash visit and he said to me 'coach, yesterday was the happiest day of my life – I never thought I would have the chance to play with a world number one'!
"I hope this visit will be the push for junior squash in Romania," continued Constantinescu. "In five years' time, I hope we will have more than 200 juniors around the country – a new generation of players competing in European and World championships.
"It's good to have formed a closer relationship with the World Federation in this way – we don't want to 'reinvent the wheel' in what we do to promote squash here and we look forward to the help the WSF can give us in developing juniors, finding good coaches, etc.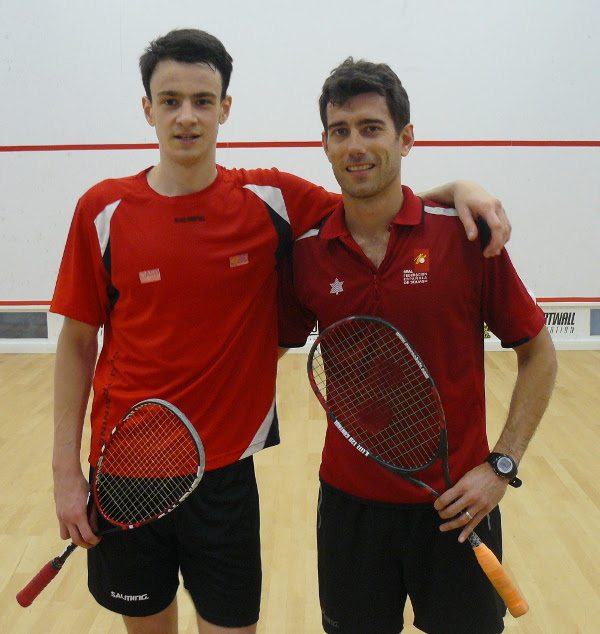 "We are optimistic that Vasile Hapun (pictured above with Golan) will make a successful move from junior to senior squash – but it will be hard for him and we grateful to the support that Abbas Tawil is providing. Vasile is the 'engine' for us – to show people in Romania how to play squash!"
The WSF Ambassador Programme first visited the Baltic country of Latvia in 2011, followed by a trip to the African countries of Malawi and Namibia, then Panama and Venezuela in 2013, before last year journeying to Papua New Guinea.