The legacy of a three-day WSF Ambassador Programme visit to the Liaoning Province in China will be to put the city of Dalian on the international Squash map, according to the Dalian Squash Association Secretary General Wang Guo Guang.
Led by Malaysia's world No.5 Low Wee Wern and the four-time Hong Kong national champion Dick Lau – and including Asian Federation Regional Referee Robert Arrffan, from Singapore, and Dick Leung, the Assistant Head Coach at Hong Kong Squash – the World Squash Federation team was hosted by the Dalian Squash Association in conjunction with the Chinese Squash Association.
Launched in 2011, the inspired WSF international promotional initiative annually takes two leading squash players, together with an international coach and referee, into younger squash nations to help raise the sport's profile – through clinics, exhibition matches, refereeing and coaching seminars, and media presentations.
The first day's schedule included a visit to the city's Xigang Stadium, a six-floor sports centre which has a single floor devoted to squash – featuring the world's only single location boasting four all-glass courts!
Later, a press conference was held at the new Olympia 66, the largest Shopping Mall in the region in which an all-glass showcourt has pride of place on the sixth floor.
It was at this event, jointly hosted by the Dalian Sports Federation, that the city revealed its bid to become the first in China to stage a world squash championship by announcing a tender for the 2018 WSF Women's World Team Squash Championship.
Fu Wei Dong, Secretary General of the Dalian Sports Federation, welcomed guests to the press conference, highlighting the fact that Dalian is noted for its success in sport, with four players from the city in the China men's national football team and six in the women's team.
Lu Zhijun, President of the Dalian Squash Association, thanked the city for backing the association: "We are grateful to the government for their support of squash. Dalian has established a strong reputation for sports – like running and football – but in a few years we hope it will be for squash.
"Places like Beijing and Shanghai are too big, with too much going on – squash can better be developed in our country from a city like Dalian.
"After seeing how events like the Hong Kong Open can be presented, we hope that Dalian will host more tournaments of a similar style."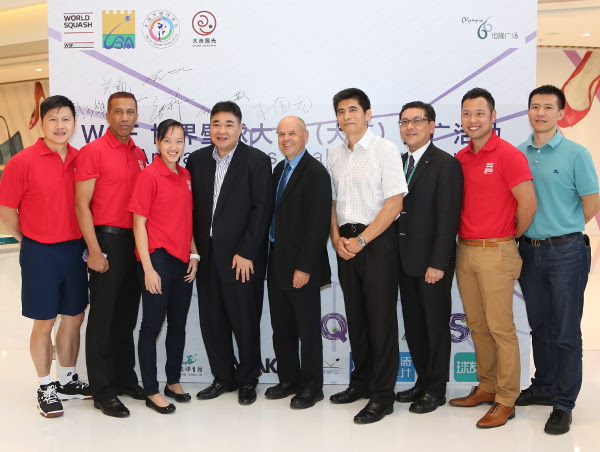 (Pictured at the Olympia 66 Press Conference (L to R): Dick Leung, Robert Arrffan, Low Wee Wern, Tony Choi, Andrew Shelley, Chinese Squash Association Vice President Huang Kai, Olympia 66 Deputy General Manager Sean Ang, Dick Lau & Wang Guo Guang)
Hong Kong Squash Head Coach Tony Choi praised the WSF initiative for coming to China to raise the profile for squash and highlighted the sport's suitability for the country with China already successful in other rackets sports whilst fellow Asian countries are also successful in squash. "I am confident that a squash champion will soon come from China."
The WSF Ambassadors were later invited to the Dalian Jiahui Foreign Nationals School, an international primary and secondary school which boasts 1,600 pupils where an inspiring and unique partnership with the Dalian Squash Association was unveiled.
In conjunction with plans to build a new sports centre including an all-glass squash court, the school announced the inauguration of the Jiahui Education Group Squash Training Base.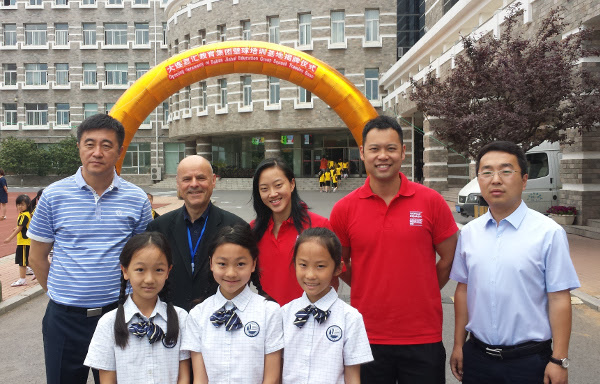 (WSF Ambassadors Shelley, Low and Lau at the Dalian Jiahui School, flanked by Dalian Jiahui Education Development Company President Assistant Gao Shan (left) and fellow President Assistant Li Hailong (right))
"This base not only lays a solid foundation for future development and growth of youth squash training but also has its significance in reflecting the idea of quality-orientated education consistently proposed by the Jiahui Education Group," said Gao Shan, President Assistant of the Dalian Jiahui Education Development Company.
"Squash is a very suitable sport for adolescents," Li continued. "It has become a part of people's healthy lifestyle and it will demonstrate its vitality in a broader sports arena."
In response, WSF Chief Executive Andrew Shelley commented: "The youth of Dalian will become the future backbone of players of squash in China, and the development work of Dalian Jiahui, coupled with Dalian Squash, to promote the game and add new facilities make this a very exciting era for squash here.
"Of course the possibility of bringing a WSF World Championship here too in 2018 will provide even greater impetus for Dalian, and a wonderful opportunity for players around the world to see this great city and squash passion for themselves."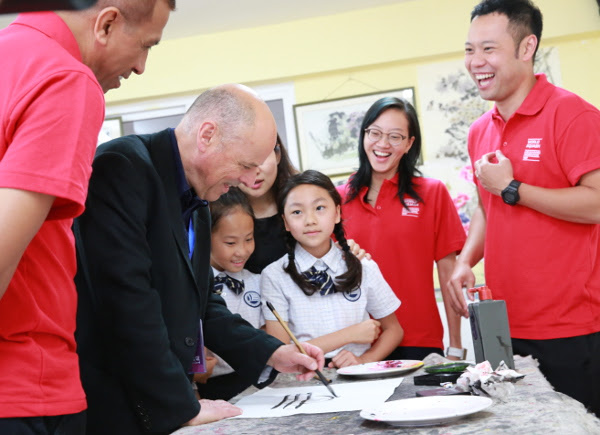 (Dalian Jiahui pupils attempt to teach Andrew Shelley the ancient art of Chinese water painting, overlooked by Arrffan, Low and Lau)
Some 30 youngsters from the Jiahui school enjoyed a session with Low Wee Wern and Dick Lau at the Xigang Stadium, while benefiting from coaching from Dick Leung
(Dalian Jiahui pupils after a session at Xigang Stadium with the WSF Ambassadors)
In summing up the success of the WSF Ambassador visit, Dalian Squash Association Secretary General Wang Guo Guang said: "This visit will help people know about squash – it will help the development of the sport here in Dalian and help attract more media support. We have never had as much media coverage for squash as we have had during this visit. There has been a lot of interest – especially on the internet and through social media, all over China.
(Pictured at the farewell dinner in Dalian (L to R): Dalian Squash Association President Lu Zhijun, Andrew Shelley, Wang Guo Guang & Dalian Squash Association Vice-President Zhang Yongpeng)
"We hope that the success we achieve here for squash in Dalian can be spread throughout the country. We want Dalian to become the squash capital of China.
"We have always had a good relationship with the Chinese Squash Association – but we are now working together even more closely. We hope that this visit has shown the national association that we have the ability to run successful squash programmes here.
"The opportunity for our top national players to play top international players – like the Chinese No.2 woman Gu Jinyue who played Low Wee Wern – has been excellent. But whilst the current players have too big a gap in standard to overcome, I believe that it is the next generation of players who will ultimately benefit from this experience in order to compete at international level, but we need to attract top coaches from overseas.
"We want to get backing from the national association to be the home for junior development in China.
"This visit has opened our eyes to what we have to achieve – but I have the confidence that we can do it, with players, coaches and referees.
"In three or five years' time, I hope we will have shown what we can do after hosting the Asian Masters and the Women's World Team Championships – and we aim to keep the momentum going by hosting more international events.
"We want to put Dalian on the international squash map – and the reward for this will be more government support."
The WSF Ambassador Programme first visited the Baltic country of Latvia in 2011, followed by a trip to the African countries of Malawi and Namibia, then Panama and Venezuela in 2013, Papua New Guinea in 2014, before focussing on the Balkan region last year with appearances in Serbia, Romania and Croatia.